The Art(ists) Speak for Themselves as Freshmen Art Highlighted at Kitao Art Gallery
On the evening of Sept. 20 in Kitao Gallery, students munched on Trader Joe's cheese and crackers, taking in the impressive artwork of their peers. In Kitao's first exhibition of the year, seven first years had artwork displayed on the walls of Swarthmore's student-run art gallery for its annual freshmen art show. Attendees passed through slowly, stopping to fully appreciate each work and signing the guest book on their way out. An hour into the show, guests had already filled one page and had moved on to the second.
"Part of the purpose of this show is to introduce the first years to Kitao, so when you have active participation from this class both as attendees and participating artists, it feels like you are starting out on the right foot," wrote President of Kitao Alyssa Ogle '21 in an email to Voices. "It was heartwarming to see the participating artists show a new side of themselves to their friends, as these are typically nascent relationships. Multiple times throughout the evening, the friends of the artists expressed their amazed at their friends' talent and it was great to play a role in that discovery."
The mediums used ranged from photography to pencil to paint, but it was clear that each artist put deep thought and care into their work. Ramiro Hernandez '23 uses art as a form to express himself and reflect. "I usually like to paint when I have too many thoughts in my head - it helps me center myself. I made this piece mostly for fun," Hernandez said. "I really like butterflies, but I wanted to add something else to the overall aspect of the piece, so I cut up pictures of my twin sisters and made the body from that."
Throughout the gallery, many of the artists captured the intricacies of people and their faces by showing their portraits. In particular, Sophie Engels '23 showed this in her piece, Love is the Answer. "I think that you can find beauty in every person, and that's especially why I enjoy drawing portraits," Engels said. "I do art to take my mind off of school and other responsibilities, and also to simply capture an image that I think is beautiful and that I want to share with others."
Alongside the intricate and detailed images that these artists created, there were photographs that other artists captured themselves through the lens of a camera. Rebecca Putnam' 23 used her artistic ability capturing the beauty in both animals and humans in her photographs Bunny Love and Feeding Time. "I do photography to capture the unique, candid moments in life that connects people to each other. Photographs help us remember and reflect," Putnam said. "The ability of an image to make a person smile, laugh, frown, or cry is incredible."
Alexandra Malcombe '23, who submitted two pieces, Lady and Saint Longinus, explained, "For me, working with my hands is one of the few things that makes me feel like I've done work that's worthwhile. Little else gives me the feeling of accomplishment that comes from creating something where there was once nothing, of translating from my head into a tangible form."
While the freshmen art show is over, Kitao has more exciting events coming soon, including an earring making workshop on Oct. 4 and a Fall Arts Festival during the first week of November that will include an exhibition that all class years can submit to. Additionally, each week Kitao hosts open studio hours, where students can use Kitao supplies and space to make their art. If you have any questions about the open studio hours, you can reach out to Sarah Weinshel '22.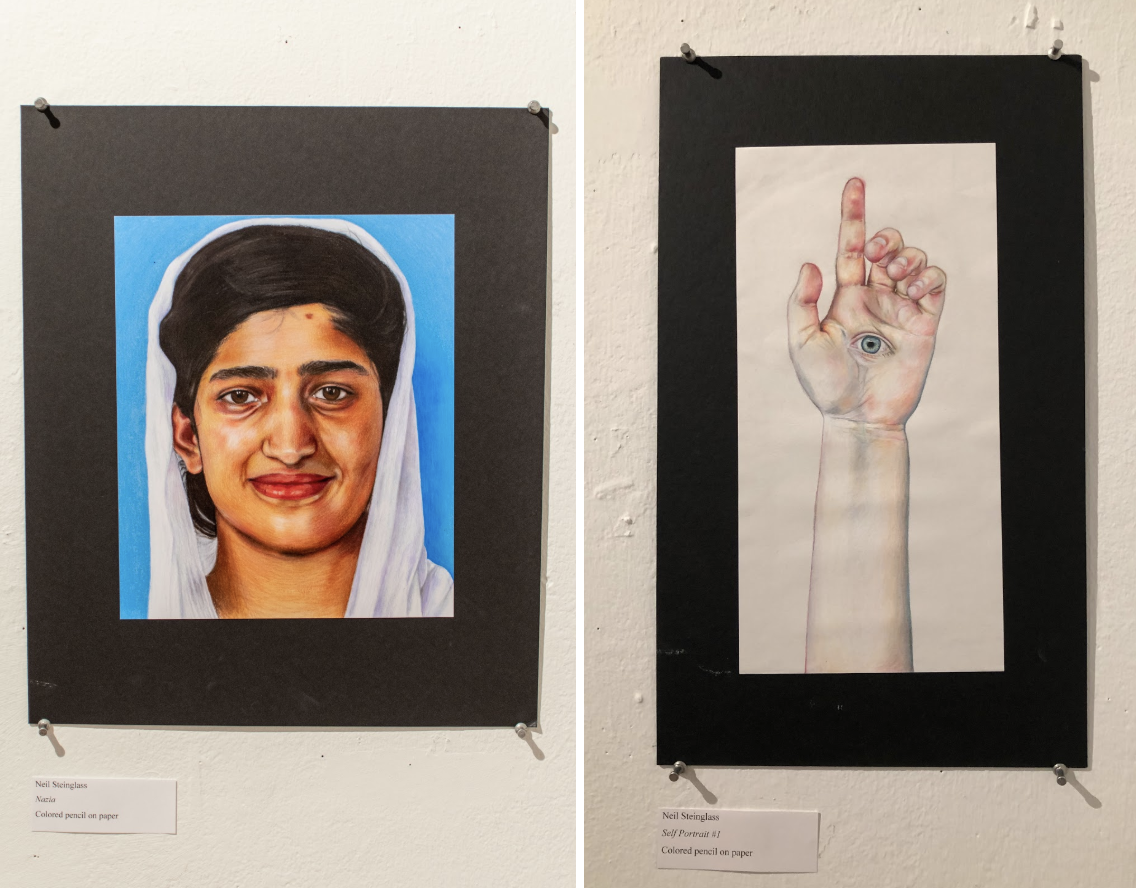 All photos by Tristan Alston '22